Before the game i looked at this Brazil team no Neymar no Thiago Silva without these two they look distinctly average. I expected Brazil to tighten up defensively close the space's and be hard to beat trying to hit Germany on the counter.But were Brazil bad? or were Germany so good?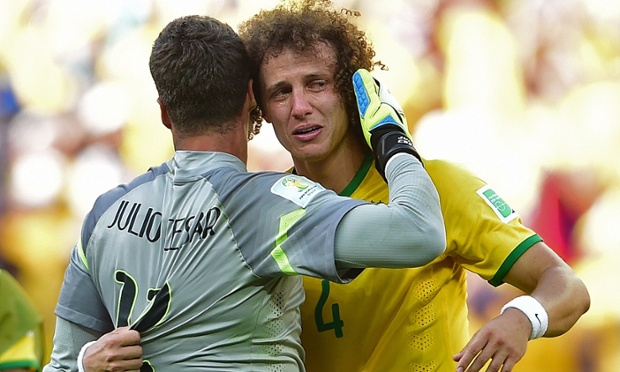 Looking back i think Brazil were so bad no structure to the defence ,no communication no flair going forward and emotionally very drained. So many times Germany were able to slow the game down and with their fantastic movement easily find space in between the back 4 and the midfield.
Scolari and Brazil didn't react to this they kept playing the same way and Germany just got better and better throughout the game. On one occasion all Brazilian players missed the ball no one put a challenge in at all and Germany finish of the passing move. Brazil lacked concentration lack of tracking runs, reluctance to tackle and poor positional play in terms of covering space was so poor.
You just think Brazil missed a defensive leader so to pull the fullbacks tighter ,someone to pull the midfielders in and someone to rally the troops someone like Thiago Silva. Its was obvious how Germany would play ball circulation moving the ball forward playing clever passes into the box and Brazil let them play which was absolute suicide.
Enough about Brazil this day belongs to Germany and although they didn't have to work particularly hard to score goals their finishing and movement was excellent. Finally Klose breaks the world cup goalscoring record personally i didn't quite want him to break it i wanted it to stay with they real Ronaldo but records are their to be broken and what an unbelievable achievement that is for the German.
Can Germany be stopped? Will they go on to win the world cup? i believe they can be stopped and i believe the one team who can beat them is the Netherlands as they have a strong defense ,quick transitions on the counter attack and know-how to overcome this Brazilian side. The one thing you have to do with this Germany team is force them back into their own half let them play side wards and backwards you also have to track the runners off the ball not giving the player on the ball any options to pass to.