On Saturdays game Chelsea vs Man city on paper one of if not the biggest match of the season so its obvious both sets of players and manager are going to take precautions in terms of team selection and risk taking on the pitch. Jose Mourinho is certainly not one shy of protecting a slim lead or holding out for a draw if need be but is he being negative or is he just smart?
Before we get into discussing the game lets remember Chelsea are without Diego Costa and Fabregas their two most influential players in their squad. They are also up against a very strong Man city team who are their biggest competition also not forgetting they had little time to prepare for this game considering their midweek clash with Liverpool which was a very physically intense game .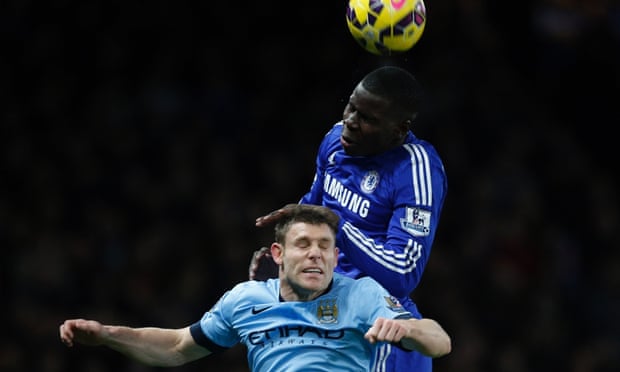 Before the game Jose Mourinho would have taken a draw 5 points clear at this point is not bad considering the amount of games played that's why i think he went with Ramires in midfield alongside Matic to give Zouma (who was excellent) and Terry the needed protection against Man city's creative midfield. The two wide players Willian and Oscar stayed tight to the midfield to give numbers in midfield were city like to have the ball. I dont think that's negative just thinking ahead.
The first half of the game was pretty open both teams seeking to attack and score goals Man city played with their winger's high and wide looking to catch Chelsea out. When both goals from Remy and Silva went in just before half time we all thought "game on" and that we'd be seeing a high scoring game in the second half but oh how different was it.
Man city gained momentum and started to dominate both by possession and shot count. Mourinho assessed this danger and decided to sit deeper and stay tighter which put Chelsea under immense pressure. Nearer the end of the game he decided to play for a draw by bringing on Drogba to hold up the ball to relieve some of that pressure and two defensive minded players to see out the draw which in Mourinho's eyes is probably more like a win as he maintains his teams 5 point lead.
In my opinion Jose Mourinho is a very pragmatic manager everything he does or says is to improve his teams chances of winning games. He is not negative just very logical and that's why his trophy cabinet is so full. YES it not as attractive to watch YES its ugly at times but ask yourself this would you rather bad and win or play good and lose? i know which one id pick.