As we know the league cup match Chelsea vs Tottenham is coming up on the weekend a chance for Jose Mourinho to get his 1st trophy since rejoining Chelsea last year but were will this trophy rank in the Special one's huge cabinet of trophies. Here i take a look on what i believe to be Jose Mourinho's best achievements in terms of titles and trophies.
5. The 'Double' in his first season at Porto.
To think he was in his 2nd year of management and in reality his first proper managerial job he not only guided Porto to domestic honors he also won the super cup beating Celtic on in extra time through the silver goal rule. This gave Jose a great domestic platform to build on and to disprove critics in his country than people who haven't played the game can succeed in management.





4. Real Madrid Record breaking Title win.
This was in my opinion his most entertaining sides he every managed. This Real Madrid team could score goals from any where and any angle which didn't surprise anyone when not only did they win the league by 9 points (ahead of Barcelona) but they broke the record for the most wins in a La Liga season (32) they broke the record for the most goals scored in a La Liga season (121)and they finished the season with a goal difference of 89+.



3.Chelsea's first ever Premier league title.
This put Chelsea on the European map and was the catalyst for Chelsea's growth as a football club. This proved Jose could achieve Success in another country, it showed his adaptability to cultural changes and exposure to different environments. In this season Chelsea only conceded 15 goals the record still to this very day which boasts Jose's talent as a great defensive coach.





2.Winning the champions league with inter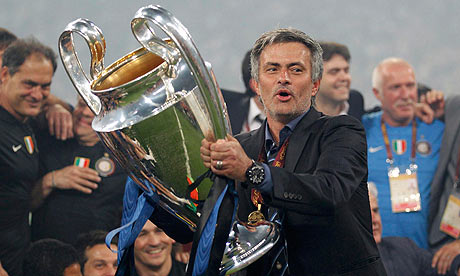 This team in my opinion was one of the most determined, gritty, and most tactically perfect team that Jose Mourinho has ever built. Jose Mourinho truly earnt his money with this team considering the average age of the squad and the low skill set in terms of creativity and overall skill this Inter team would have had no chance if the tactics hadn't been perfect in every game and every round of the competition 2 legs in particular stick out Barcelona Home and away absolute Champions league CLASSIC.



1. Winning the Champions league with Porto
This has to be performance of the decade if you consider money,talent and MONEY. He spent little on players relying on young Portuguese players and unknown cheap Brazilians he combined a team based on his career principles Work hard as a team, keep a solid defensive block and make use of quick transitions. The highlight for Jose Mourinho in this competition would have been getting one over his good friend Sir Alex Ferguson beating Man united on the way to the final in Germany.